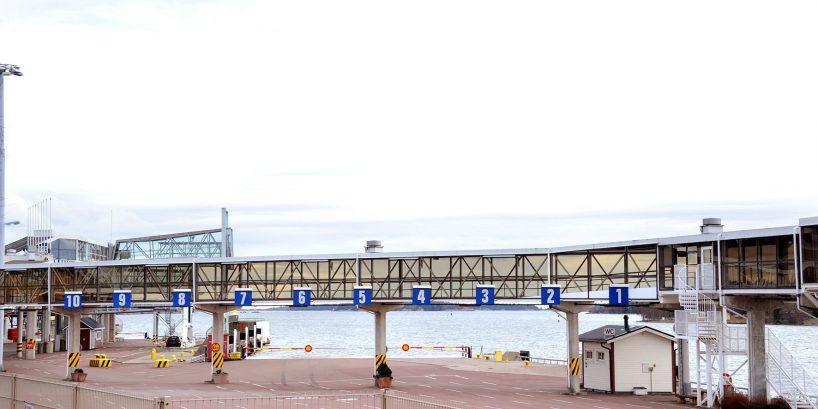 Service in the port
Services for passengers
Ferry Terminal
Luggage carts
in the entry hall and gangways.
Coffee vending machine
in the entry hall. Euro coins accepted.
Snack vending machine
in the entry hall. Euro coins and card payment accepted.
Defibrillator
in the entry hall.
Luggage lockers
in the entry hall 45 luggage lockers are situated.
Dimensions: width 37 cm, depth 74 cm, height 70 cm.  Only accepted coins are 2 euro coins.
Coin changer
in the entry hall. Accepts banknotes and coins in EUR and SEK. Changes to euro coins.
Assistance
Passengers who require assistance to embark or disembark can book assistance together with their ticket from their shipping company of choice. Assistance need to be booked 48 h prior to departure. Wheelchairs are available for pree-booked travellers.
Restrooms
on every floor and in the port area for departing cars after the check-in booths.
Changing tables
located both in men's and women's restrooms.
Telephone charging
on every floor telephones and portable devices can be charged free of charge.
Internet access
FreeWifi is provided in cooperation with VisitAland.
Transports
the local bus has a bus stop outside the main ferry terminal. Timetable can be found at the bus stop. Tickets are purchased on board in euro (cash only). Taxi stand located outside the main ferry terminal.
Cash machine
in the town centre.
 Opening Hours
Monday – Friday
| | |
| --- | --- |
| | 08.00 – 16.15 |
| |  and in connection with  ferry calls. |
For information about Mariehamn and Åland and general Tourist information please visit the website of VisitAland
Cruise terminal
| | |
| --- | --- |
| Opening hours | in Connection with vessel calls. |
| Assistance | Passengers who require assistance to embark or disembark can book assistance together with their ticket. Assistance need to be booked 48 h prior to departure. Wheelchairs are available for pree-booked travellers. |
| Restrooms | in the entry hall. |
| Changing tables | in the restrooms. |
| Telephone charging | in the entry hall telephones and portable devices can be charged free of charge. |
| Internet access | FreeWifi is provided in cooperation with VisitAland. |
| Transports | the local bus has a bus stop outside the main ferry terminal. Timetable can be found at the bus stop. Tickets are purchased on board in euro (cash only). Taxi stand located outside the main ferry terminal. |
| Cash machine | in the Town centre. |
| Shopping | gift shop in the entry hall. Open in connection with cruise ship calls. |
Services for vessels
The Port of Mariehamn offers fresh water, waste disposal, bilge and sludge disposal, as well as grey and black water handling. There is also capacity for vessels to be laid up for shorter or longer periods of time. For more information on the services on offer for vessels, please contact our Harbor Master Helena Jansson, +358 400 781 181, [email protected]