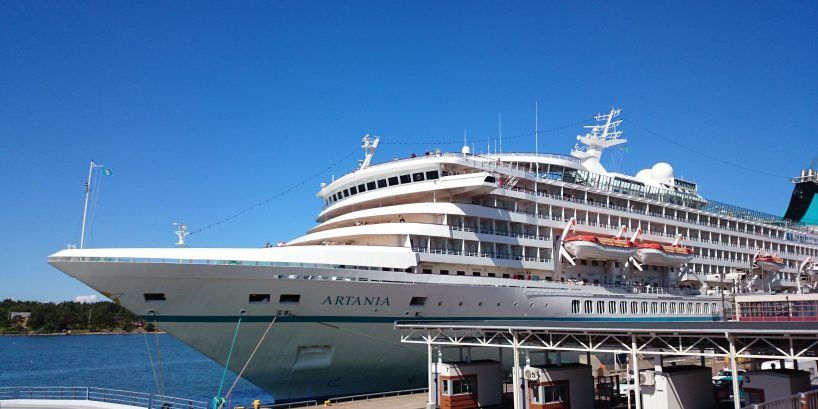 Cruise Traffic
Cruise traffic to Mariehamn runs all year round on a regular basis. International cruise ships generally call during the summer time.
Port of Mariehamn is a member of Cruise Baltic, the network of partner destinations consisting of all major ports in the Baltic Sea region.
More information about Port of Mariehamn as a cruise destination can be found on the websites of Visit Aland and Cruise Baltic.
In 2019 23 international cruise ships visited Mariehamn.
For the season of 2020 over 2o international cruise ships are scheduled to visit:
| Ship | Day | Date | Arrival | Departure |
| --- | --- | --- | --- | --- |
| AIDAcara | Thu | 30.04.2020 | 09.00 | 18.00 |
| AIDAcara | Wed | 13.05.2020 | 08.00 | 19.00 |
| Ocean Majesty | Thu | 21.05.2020 | 07.00 | 17.00 |
| AIDAcara | Wed | 27.05.2020 | 08.00 | 19.00 |
| AIDAcara | Wed | 17.06.2020 | 09.00 | 18.00 |
| Amadea | Fri | 19.06.2020 | 10.00 | 20.00 |
| Hamburg | Tue | 23.06.2020 | 07.30 | 12.15 |
| Sea Cloud II | Wed | 24.06.2020 | 08.00 | 12.00 |
| Azamara Quest | Thu | 25.06.2020 | 08.00 | 18.00 |
| SAea Cloud II | Thu | 16.07.2020 | 08.00 | 12.00 |
| Silja Europa | Mon | 20.07.2020 | 10.00 | 20.00 |
| World Voyager | Thu | 30.07.2020 | 09.00 | 18.00 |
| Braemer | Sun | 02.08.2020 | 10.00 | 17.00 |
| Evrina | Fri | 07.08.2020 | 09.00 | 23.00 |
| Evrina | Tue | 11.08.2020 | 09.00 | 23.00 |
| Hebridean Sky | Fri | 14.08.2020 | 14.30 | 22.00 |
| AIDAaura | Sun | 16.08.2020 | 10.00 | 19.30 |
| AIDAaura | Fri | 28.08.2020 | 10.00 | 19.30 |
| Spirit of Adventure | Mon | 31.08.2020 | 08.00 | 17.00 |
| AIDAaura | Wed | 09.09.2019 | 10.00 | 19.30 |