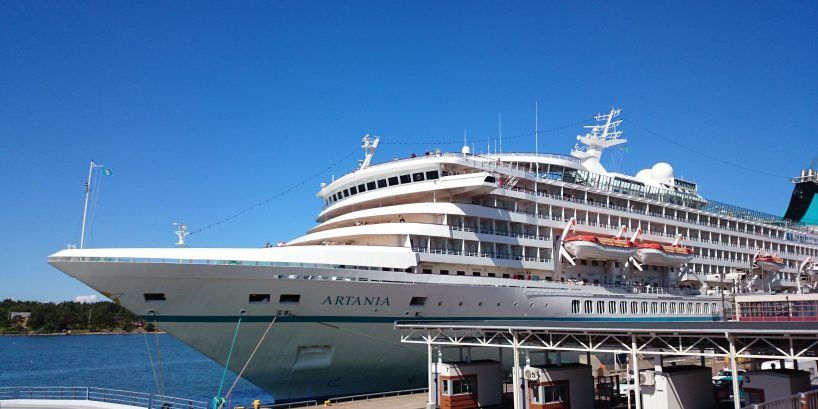 Cruise Traffic
Cruise traffic to Mariehamn runs all year round on a regular basis. International cruise ships generally call during the summer time.
Port of Mariehamn is a member of Cruise Baltic, the network of partner destinations consisting of all major ports in the Baltic Sea region.
More information about Port of Mariehamn as a cruise destination can be found on the websites of Visit Aland and Cruise Baltic.
In 2021 all scheduled cruise calls apart from ferries from Finland, Sweden and Estonia were cancelled due to the ongoing Covid-19 pandemic. During the summer months both Tallink Silja Line and Viking Line arranged day-cruises to Mariehamn.
For the summer of 2022 more than 40 cruise ships are already booked to visit the Port of Mariehamn. Whether the booked calls will actually occur depends on how the world situation develops.
Schedule for international cruise ship calls 2022:
(Max pax* indicates the total passenger capability on board)
| | | | | | | | |
| --- | --- | --- | --- | --- | --- | --- | --- |
| Date | Day | Cruise ship | Quay | Arrival | Departure | Max Pax* | Last Port |
| 15.04.22 | Fri | Hamburg | 6 | 08:00 | 13:00 | 420 | Helsinki |
| 18.05.22 | Wed | Viking Venus | 1-2 | 08:00 | 19:00 | 930 | Gdansk |
| 22.05.22 | Sun | Viking Venus | 1-2 | 07:00 | 18:00 | 930 | Stockholm |
| 23.05.22 | Mon | Viking Star | 1-2 | 08:00 | 19:00 | 930 | Gdansk |
| 27.05.22 | Fri | Viking Star | 1-2 | 10:00 | 17:00 | 930 | Stockholm |
| 28.05.22 | Sat | Insignia | 1-2 | 08:00 | 19:00 | 684 | Helsinki |
| 29.05.22 | Sun | NG Explorer | 1-2 | 12:00 | | 148 | Kalmar |
| 30.05.22 | Mon | NG Explorer | 1-2 | | 14:00 | | |
| 31.05.22 | Tue | Viking Jupiter | 1-2 | 08:00 | 19:00 | 930 | Gdansk |
| 03.06.22 | Fri | Hebridean Sky | 1-2 | 10:30 | 19:30 | 112 | |
| 04.06.22 | Sat | Ocean Majesty | 1-2 | 08:00 | 23:00 | 535 | Cancelled |
| 06.06.22 | Mon | World Voyager | 1-2 | 08:00 | 23:00 | 200 | Turku |
| 10.06.22 | Fri | Hamburg | 6 | 08:00 | 13:00 | 420 | |
| 10.06.22 | Fri | Europa | 1-2 | 12:00 | 18:00 | 408 | Stockholm |
| 12.06.22 | Sun | Star Legend | 1-2 | 07:00 | 14:00 | 212 | |
| 16.06.22 | Thu | Viking Star | 1-2 | 07:00 | 18:00 | 930 | Stockholm |
| 17.06.22 | Fri | Star Legend | 1-2 | 07:00 | 17:00 | 212 | |
| 18.06.22 | Sat | Azamara Pursuit | 1-2 | 08:00 | 18:00 | 710 | Cancelled |
| 20.06.22 | Mon | Viking Jupiter | 1-2 | 07:00 | 12:00 | 930 | Visby |
| 24.06.22 | Fri | Viking Jupiter | 1-2 | 07:00 | 18:00 | 930 | Cancelled |
| 24.06.22 | Fri | Silja Europa | 4 | 10:00 | 18:00 | 3013 | Tallinn |
| 29.06.22 | Wed | Sea Cloud Spirit | 1-2 | 08:00 | 12:00 | 136 | Stockholm |
| 01.07.22 | Fri | World Voyager | 1-2 | 08:00 | 23:00 | 200 | Turku |
| 03.07.22 | Sun | Sea Cloud Spirit | 1-2 | 08:00 | 12:00 | 136 | Stockholm |
| 10.07.22 | Sun | Viking Star | 1-2 | 08:00 | 19:00 | 930 | Gdansk |
| 11.07.22 | Mon | World Voyager | 1-2 | 08:00 | 23:00 | 200 | Helsinki |
| 19.07.22 | Tue | Azamara Pursuit | 1-2 | 08:00 | 15:00 | 710 | |
| 20.07.22 | Wed | Hebridea Sky | 1-2 | 08:30 | 17:00 | 112 | Stockholm |
| 21.07.22 | Thur | Viking Mars | 1-2 | 08:00 | 19:00 | 930 | Gdansk |
| 23.07.22 | Sat | World Voyager | 1-2 | 08:00 | 23:00 | 200 | Turku |
| 25.07.22 | Mon | Viking Mars | 1-2 | 07:00 | 18:00 | 930 | Stockholm |
| 09.08.22 | Tue | Hebridean Sky | 1-2 | 09:30 | 18:30 | 112 | Helsinki |
| 10.08.22 | Wed | Spirit of Discovery | 1-2 | 08:00 | 17:00 | 999 | Cancelled |
| 11.08.22 | Thur | Viking Jupiter | 1-2 | 08:00 | 19:00 | 930 | Gdansk |
| 14.08.22 | Sun | Ocean Odyssey | 1-2 | 08:00 | 22:00 | 160 | Helsinki |
| 15.08.22 | Mon | Viking Jupiter | 1-2 | 07:00 | 18:00 | 930 | Stockholm |
| 16.08.22 | Tue | Ocean Odyssey | 1-2 | 08:00 | 18:00 | 160 | Stockholm |
| 18.08.22 | Thu | Hebridean Sky | 1-2 | 09:00 | 17:00 | 112 | Helsinki |
| 23.08.22 | Tue | Hebridean Sky | 1-2 | 08:00 | 17:00 | 112 | Stockholm |
| 01.09.22 | Thur | World Voyager | 1-2 | 11:00 | 22:00 | 200 | Stockholm |
| 02.09.22 | Fri | World Navigator | 1-2 | 11:00 | 22:00 | 200 | CANCELLED |
| 07.09.22 | Wed | Amadea | 1-2 | 10:00 | 20:00 | 584 | |
| 08.09.22 | Thu | Viking Jupiter | 1-2 | 08:00 | 19:00 | 930 | Gdansk |
| 11.09.22 | Sun | Viking Venus | 1-2 | 07:00 | 18:00 | 930 | Stockholm |
| 12.09.22 | Mon | Viking Jupiter | 1-2 | 07:00 | 18:00 | 930 | Stockholm |
| 14.09.22 | Sun | World Navigator | 1-2 | 11:00 | 23:00 | 200 | CANCELLED |
| 16.09.22 | Fri | Gabriella | 4 | 09:00 | 19:00 | 2402 | |
| 17.09.22 | Sat | Baltic Queen | 4 | 10:00 | 18:00 | 3013 | Tallinn |
| 03.12.22 | Sat | Gabriella | 4 | 10:00 | 16:00 | 2402 | |