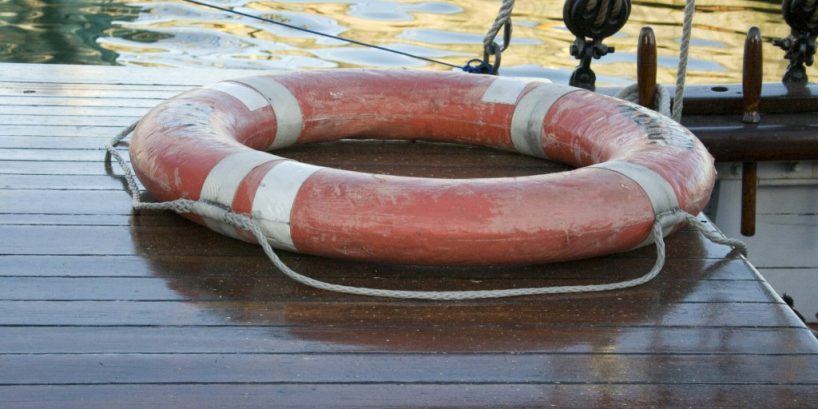 Port Security
Port Security – ISPS
The Port of Mariehamn follows the International Ship and Port Facility Security Code (ISPS). Berths 1-6 in the Western harbor, Sopudden, Kraftverkskajen and Klintkajen are restricted port areas. "Lagen om sjöfartsskydd " (The Act on Maritime Security) 485/2004 details the code's intentions in Finnish and Åland ports.
The port security regulations are made evident mainly by fences and strict access control – access to the port areas is restricted to those with official authorization. Electronic keys, so called "tags", are employed to easily manage access to restricted areas. In addition to this access control, the port maintains a security plan split across three different security levels. The security level varies depending on any current threats and on several other internal and external factors.
Tags
Anyone who needs access to restricted areas must send an application to the Port Office, either by visiting in person or by filling in a digital form and e-mailing it to the Port Security Officer. The processing time is approximately one week. The access pass/tag is valid for a maximum of one year and must then be renewed. We DO NOT need the actual tag in order to renew it – it is enough to send a request with up-to-date contact details either through the digital form or, if the same company has more than five (5) tags, to send in a list of necessary corrections.
Handling of personal data
Personal data submitted when applying for access to the restricted port areas will be saved as long as the person has access. Some personal data may be saved longer when the personal data processing is based on legal obligation. For any questions regarding handling of personal data please contact the Port Security Officer.
Parking
Please note that vehicular access to restricted areas is only allowed for loading and unloading as well as any work that requires a vehicle. Only vehicles with a specially authorized parking permit may park in the port areas – and only on marked parking spaces. Parking permits can be obtained from the Port Office.
Departing vehicles
Departing vehicles, regardless of size or number of passengers, shall only be allowed on board by the respective carrier. These vehicles may not be priorly present in the restricted area. Drivers and any passengers must carry a valid ticket and a valid ID.
Departing passengers
Each respective carrier administers tickets and monitors access to the departure hall as well as access to the ships. Passengers are required to have a valid ticket and a valid ID.
Controls
Everyone present in the restricted area must be able to, upon request, provide a valid ticket and a valid ID. ID checks may be carried out by carrier personnel, port personnel, any third-party security company hired by the port, as well as the authorities. Access to the restricted areas is not allowed without valid documents.
Alandia Security Ab performs, on behalf of the Port of Mariehamn, random controls of departing passengers as well as their luggage and vehicles. A passenger may of course refuse these controls, but must in that case immediately leave the restricted area.
Technical surveillance 
The port security area and nearby areas are subject to different types of technical surveillance and logging. Handling of this material is strictly regulated to avoid misuse.
Approval
As the supervising authority in Finland, the Finnish Transport Safety Agency (TRAFI) has approved certain safety inspections and a safety plan for the Port of Mariehamn. A certificate has also been issued.
Registration number: FIMHQ 0002
For questions regarding port security and safety, contact the Port Security Officer at [email protected].